Hello everyone! It's time again for another challenge over at
Creative Inspirations
! This week the theme is Easter and our sponsors are: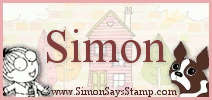 with a $10 voucher to their store!
and:
with stamp #N263 I Serenade You
So, here is what I have come up with....
This is a reconditioned(for lack of a better word) tootsie roll bank. A little modge podge and some paper to cover, a few trims and a cute little mini. I was thinking I would make these for all my kids but seeing as I have mostly boys and only girl maggie minis this little cutie has gone off to a friends daughter.
Here's a different view. so you can see those flowers a bit better. While I was trying to get a close up my program froze up and I couldn't get it to close up so I'm afraid this is all I've got for you.
I think that wraps it up. I have these papers for ages and the lace is from my local craft store. The flowers are WOC and the stamp is Hello Tilda mini from
Magnolia-Licious
. Thanks for stopping by today. I hope you have enjoyed my little project. Be sure to stop by and see what the rest of the DT have made!
Havea great day!
xxAutumn
Challenges: